Blog Home
Summer Eats and Treats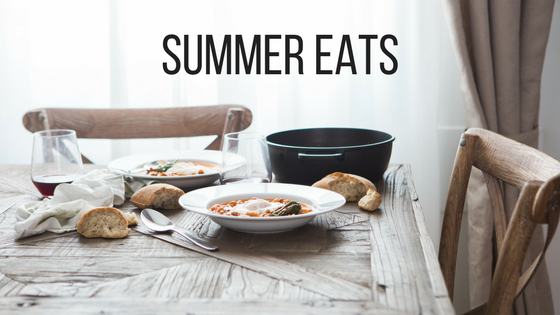 In this post, we are featuring a few of our favorite summer recipes to help you eat well this August. We are featuring the best in summer soups, salads, and sides. We hope that you get the chance to try a new recipe and enjoy your beautiful Georgetown, MA apartment this month.
Summer Fresh Corn and Zucchini Chowder from Little Broken
Head to your local farmer's market for the yellow onion, celery ribs, carrots, garlic, thyme, potatoes, corn, and zucchini you will need to make this summer soup. You'll love the fresh, garden taste of this flavorful soup.
Bruschetta Chicken Pasta Salad from Cafe Delites
We are big fans of the blend of flavors and textures in this bruschetta chicken pasta. Season this dish with Italian seasoning, garlic powder, salt, pepper, olive oil, minced garlic, red onion, balsamic vinegar, tomatoes, parmesan cheese, and fresh basil. You can finish this recipe off with a heavenly balsamic glaze.
20 Minute Honey Garlic Shrimp from Sally's Baking Addiction
Need to whip up a quick summer dinner? Make this twenty minute honey garlic shrimp. Marinate your shrimp in honey, soy sauce, minced garlic, and minced fresh ginger. This shrimp has a sweet and savory taste.
Brown Sugar and Bacon Baked Beans from The Chunky Chef
No summer picnic is complete without a serving of baked beans. These brown sugar and bacon baked beans are perfect. Use bacon, yellow onion, green bell pepper, pork and beans, ketchup, molasses, brown sugar, cider vinegar, and dry mustard to make it.
Cranberry Orange Sorbet from Baking a Moment
Need a simple dessert for your next summer dinner party? Make this cranberry orange sorbet. Use cranberries, your favorite brand of orange juice, and granulated sugar blended and mixed together to make it.
What's your favorite summer recipe? Leave it in the comments. Thanks for reading the Longview at Georgetown Blog!